NEXYAD has been developing the first and unique cognitive AI embedded software that aggregates all available sources of data in the vehicle, and calculates, 20 times per second, cautious of driving behavior regarding context, risk of driving behavior regarding context, alerts, and maximum cautious speed. We decided then to showcase our technology with a demo car: DREAMOTOR1.
NEXYAD wanted the experience to be collaborative and we also integrate into the vehicle high technologies of other small companies : ECOTECHNOLIN, FH-Electronics, INTEMPORA, SBG, YOGOKO + IMPORTANT that joined the project a few days ago.
This vehicle is developed with a partnership of the French research cluster NEXTMOVE that also developed a demo car with technologies of its members including NEXYAD. We will showcase in European events until Dec 2022.
Gerard Yahiaoui, CEO of NEXYAD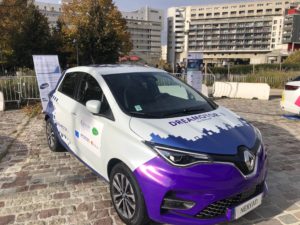 ---
Sponsors
| | | | |
| --- | --- | --- | --- |
| | | and more to come… | |
---
Technology Partners
---
Dreamotor 1 will be showcased in Europe
(click on images)
---
Leader in Cognitive AI

for Road Safety
---
Leader of Secure Connected

& Cooperative Mobility

YoGoKo is a leader in SMART connectivity technologies enabling new mobility services. YoGoKo develops on-board software and cloud-based solutions making data exchange simple.  Data is exchanged locally between vehicles, with road infrastructure and other road users using V2X communication technologies and remotely. YoGoKo's solution is deployed for vulnerable safety and new mobility services.
YoGoKo's smart solution increases vehicle perception, enhances road usage and predicts risk of collision. 
With YoGoKo, make mobility safe, green and sustainable.
---
Expertise in Real-Time

Software Development

Intempora provides advanced and innovative software tools for the development of real-time multisensor applications such as mobile robotics, ADAS and autonomous driving.
DREAMOTOR1 is powered by RTMaps (Real-Time Multisensor Applications), a powerful component-based development and execution middleware.
Thanks to RTMaps, DREAMOTOR1 can acquire, process, synchronize, visualize, record and playback data from various sensors and technologies equipped on the car.
The cognitive AI algorithms and the complex real-time system developed by Nexyad are executed by RTMaps and allow the car to predict cautious driving behavior regarding context, risk of driving behavior, display alerts and maximum cautious speed.
---
French Automotive

Research Cluster
---
Electronic Control Expertise

& Complete Robotized Car Integration

From more than 25 year's, FHELECTRONICS can use and propose it's Own Electronic Control Management (Hardware, Firmware, Applicative Software, IHM…etc), thanks continuous developpement; and also Reliability manufacturing procedure.
For all types vehicles (fuel/diesel engines, electric engines, hybrid engines, robotized vehicles, ADAS, AD systems, etc…);
We apply our skills in three major areas:
. Study and prototyping for Demo-Car & LabCar vehicles, engine manufacturers, test and research centers, manufacturers or equipment supliers, private and University laboratories
. Racing Auto & Motorcycle
. Specific applications for road vehicles, historical and technical heritage.
Our team is happy to integrate all Partners Technologies and also Robotize Longitudinal Control of Dreamotor1.
---
Leading Supplier

of Innovative Inertial Sensors

SBG Systems is a supplier of miniature, high performance and innovative motion sensing solutions including the Ellipse-D GNSS/INS sensor which has been integrated into DREAMOTOR 1. Our sensors are ideal for ADAS and unmanned vehicle control democratizing access to a reliable centimetric-level position accuracy and to a robust heading in any conditions. We design specific motion algorithms for ground vehicles resulting from the fusion of inertial, GNSS measurements and odometry data taking advantage of the CAN bus protocol. The Ellipse Series products can seamlessly be integrated into ROS/ROS2 enabled ecosystems and are supported by the Autoware.Auto and RTMapsTM software environments.
---
European Funds for

 Regional Development
---
Leading Supplier

of Innovative Vegetal Material
---
| | | |
| --- | --- | --- |
| | | Normandy Region |
| | | |
| | | |
| | | |
---
Very Precise Geolocation

of pedestrian, cyclists, etc.
---
4D Imaging Radar

with unmatched resolution